CHECK POLARITY OF YOUR BATTERY BEFORE PLUGGING IT INTO THE RETRO PSU

the polarity on my board is reverse compared to the PowerBoost and is clearly marked behind the battery connector. I am not replacing damaged boards because of this.
I am no longer Shipping to the UK because of the enforced VAT they are enforcing vendors to deal with. Sorry for the inconvenience.
This is the PSU (Power Supply Unit) board for all your retro modding needs like making a GameBoy Zero with any of the Raspberry Pi products and it's Clones like Orange Pi, Banana Pi etc, it has even powered Robots. This board has all the features the modding community wants and needs for their build into a small and powerful package, just have a look at all the features packed in below:
Features:
97% efficiency at full battery charge (4.2v)


93-95% efficiency at 3.3v to 3.6v battery charge
Outputs up to 6A @ 5.20v

Small Size of 44.1mm x 34.8mm (34.4mm x 34.8mm with JST removed)

Optional Enable Pins to turn off the boost portions


2 Separate 5v 3A outputs per Output Channel (use 24AWG or Thicker to get the full amperage!)

2 Separate Boost circuits independent of each other, but can be joined for 6A combined output

3 Jumpers to choose onboard Charge Rate,Combine Output Channels,Enable Boost Circuit 2 (Off By Default)

Charge Rate of 2.1A or 3A using Jumper J3

Charged/Charging LEDs

Breadboard Header Friendly Through Holes, most connections to onboard ICs are broken out for easy connections


USB-C socket for input charging also broken out into the header pins

Battery JST connector can be broken off to shorten PCB, Battery Connections also broken out on header pins
ADS1015 to do battery monitoring for running Battery Monitoring Scripts using the I2C pads


ADS1015 can also support an Analog Stick so that option in on the board as well and software available below!
            Retro PSU 2 Review by Brandon Cook from Cook Inventions
Big thanks to Othermod on his analog stick code, HoolyHoo for the work on the Battery Monitor and Bluup for integrating everything into the software which is found below on my GitHub (will be updated with Latest OneForAll soon):
Breakdown of Onboard Header Pinouts and Jumpers: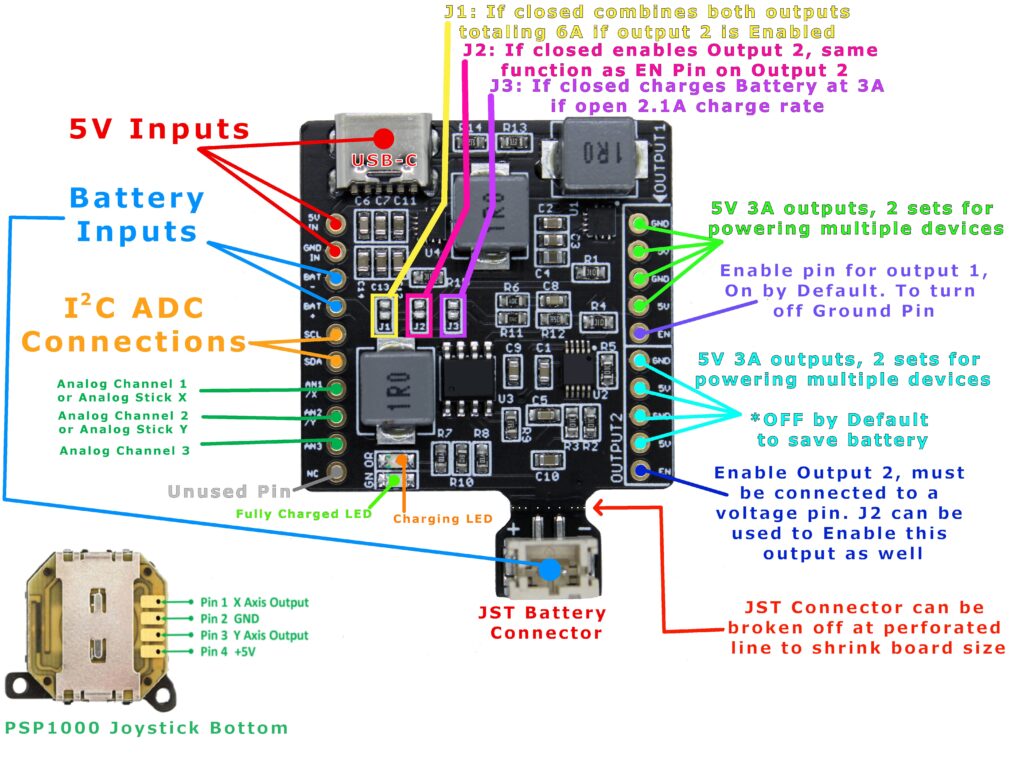 Basic Wiring Install:
                                                                                                         Software Installed: